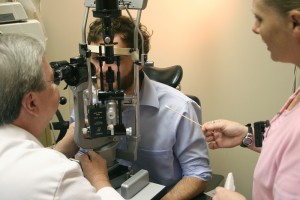 Did you know that your eye doctor is often able to detect diseases simply by looking inside your eyes? Diseases such as diabetes, high blood pressure and even heart disease often show signs in the eyes first. An eye exam is so much more than simply evaluating vision for glasses or contacts. Your eyes are windows into your overall health. Your eye doctor will always address your vision needs and attempt to maximize your sight, but they will also perform tests to monitor your overall health to help you achieve the best health you can. Checking and monitoring for things like glaucoma, cataracts and macular degeneration are all part of your comprehensive eye health examination at Remke Eye Clinic.
Comprehensive Eye Health Examination Tips:
When many people think of an eye exam, they only think of things like glasses and contact lenses. However, a comprehensive eye health examination is so much more!
During a comprehensive eye exam, your doctor will not only measure for your prescription, but will also check the health of all layers and levels of your eyes.
This allows eye doctors to detect and monitor problems and diseases that often times can go unnoticed if not specifically looked for.
There are many parts to a comprehensive eye exam. The following are some of the most common areas of the examination:
Patient History
A thorough patient history is a vital part of your visit to any doctor. It not only allows doctors to address any immediate problems you are experiencing, it also allows them to detect and screen for any potential problems you may be unaware of.
Patient history should include both the history of your eyes such as wearing glasses or injuries you may have had, and it should also include your medical history as well. Many systemic medical problems can first be detected by your eye doctor, so it is important that they have as much accurate information about you as they can.
Be sure to be very thorough and honest when you give your history to the doctor or staff because without a complete picture, it can be hard to pinpoint a precise diagnosis.
Patient history should be updated annually or anytime that there are any significant changes such as beginning or ending any medications.
Visual Acuity
Visual acuity allows your eye doctor to tell just how clearly you are able to see things.
Visual acuity is the part of an eye exam that most people are familiar with. It usually involves reading letters or symbols off of a chart. Your visual acuity result is usually given to you in a fraction such as 20/20 or 20/40.
The first number represents the testing distance, which is usually 20 feet. The second number represents the smallest letter size that you were able to read. Therefore, if your visual acuity is 20/20, you were able to see at 20 feet what a normal person can also see clearly at 20 feet. If your visual acuity is 20/40, you were able to see at 20 feet what a normal person can see clearly at 40 feet.
It is important to remember that a comprehensive eye health exam is a lot more than just a visual acuity number!
Preliminary Tests
Every eye doctor has certain preliminary and screening tests that will be preformed at the start of your exam. These tests help to begin the process of finding potential problems you may be experiencing and they provide the doctor with valuable information for their diagnosis.
Some of the most common preliminary tests are depth perception tests, color vision tests, peripheral vision tests, pupil response tests, and muscle movement tests.
Refraction
Refraction is the process of determining the appropriate lenses that are needed to give you optimal vision.
This is the part of the examination process that most people remember and sometimes stress about. Your doctor will use a large lens system called a phoropter to measure your prescription.
It is important that you are honest during this part of the examination. Often times, the numbers found through refraction are used to write your prescription.
It is also important that you are relaxed and well rested when you come in for this portion of your eye exam. Being nervous or tired can change the prescription results that your eye doctor finds. Just remember, there are no wrong answers during this part of your exam and your doctor wants to make sure you see the best you possibly can!
Eye Health Evaluation
This portion of the exam allows your eye doctor to examine all of the layers and tissues in your eyes. Sometimes eye drops are required for this portion of the exam because they can allow your eye doctor to see things that can be hidden.
Your doctor will use an instrument called a slit-lamp for this portion of the examination.
Diabetes, Glaucoma and Cataracts
We handle numerous exams per day including specific testing for Diabetes, Glaucoma. We also offer consultation for Cataracts, including pre-op, surgery and post-operative care. 
Supplemental Testing
When your doctor finds a problem area, suspects a potential problem or needs additional information about your eye health, you may undergo supplemental testing.
Your eye doctor will always explain each procedure to you and discuss with you why they feel it is necessary for your comprehensive exam. If you have any apprehension or questions about any testing, be sure to ask your doctor.
Sometimes the supplemental testing can be done in the office the same day as your exam. Other times, for insurance reasons, it may be necessary for you to return to the clinic for your tests.
Vision screenings are wonderful tools that many schools, businesses and community events often incorporate. Often times you may get a vision screening when you apply for your drivers license or visit your primary care doctor for a physical. They can help alert many people to vision problems they might otherwise be unaware of. Remke Eye Clinic is proud to partner in many of the local vision screenings in our community! However, a vision screening is NOT the same things as a comprehensive eye health examination.
Often times the people conducting the vision screenings are volunteers or are not adequately trained eye care professionals.
Vision screenings are extremely limited on the amount and type of instruments and technology available at the screening site.
Passing a vision screening does not mean that you are free of vision or eye health problems. It is important that you still regularly see your eye doctor for a comprehensive exam.
Birth – 24 Months
By 6 Months of Age or as Recommended by Your Doctor
2 – 5 Years
At 3 Years of Age or as Recommended by Your Doctor
6 – 18 Years
Before Entering School and then Annually or as Recommended by Your Doctor
18 – 60 Years
Annually to Every Other Year or as Recommended by Your Doctor
61 and Older
Annually or as Recommended by Your Doctor